We interviewed Rodolfo to share his amazing story about how he travels the world with his music and maintains a professional career at Encora.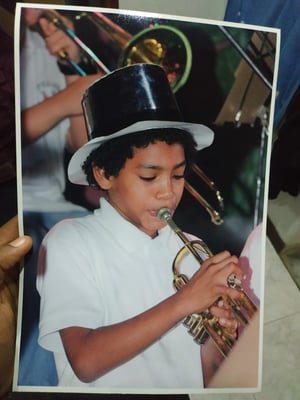 But imagine yourself in a company that makes it work; one that supports you and gives you the tools and flexibility you need to find what we call that "perfect balance"; where you are motivated to be your best self at work while also nurturing your hobbies and pursuing your dreams.
That's exactly what Rodolfo, an International Musician and Software Engineer in Colombia, has found at Encora. We interviewed Rodolfo to share his amazing story about how he travels the world with his music and maintains a professional career at Encora.
Hello Rodolfo, thank you for your time and for telling us your story of becoming a software engineer.
My name is Rodolfo Moreno, and I am from Colombia. I am a Software Engineer at Encora, an international musician in various groups, and a student.
I am fascinated by engineering, information technology, and music in all its forms.
Can you tell us how you got started in both jobs as a Musician and Software Engineer?
My mother enrolled me in a music academy when I was four years old because my school didn't have a music program.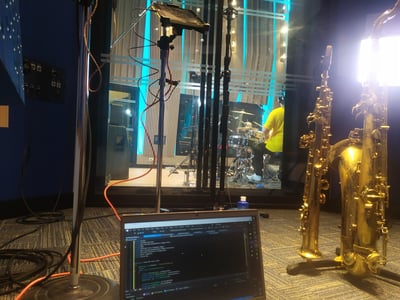 When I graduated from college, I told my father that I wanted to be a musician, but he saw it as a hobby and not as a career fit for the rest of my life.
So, I graduated from the university as a Systems Engineer but never stopped playing music throughout my studies.
I love information management and technology. I loved my laptop, phone, and tablet—all the electronic tools that helped me work in both fields.
I believe that both interests grew in tandem and that is why now it is very enjoyable for me to work in both.
Who is your source of inspiration in music and at Encora?
In music, Mike Bahía is someone who I look up to. He is a very important person to me and inspires me because he sees himself, the public, and his team from a very human perspective.
You can find a lot of beauty in its simplicity. He cultivates, feeds, and creates a loving environment for himself and his surroundings.
And at Encora, I have a great team, but if anyone comes to mind right now, it is Jose Luis Rodriguez. He is very knowledgeable. He is "sharp" and extremely intelligent. He was the person who made me feel the most comfortable during this new stage of my life. Jose Luis is friendly and willing to answer any questions or concerns you may have. Jose Luis, like Mike, uses a very human and warm approach in the way he treats others. He has greatly inspired me by sharing his journey with me to help me learn and improve.
Many people thought I was going to give up my engineering job to pursue music, but I knew I loved it. And people like the Cali Vice President made me fall in love with this career.
Why did you choose Encora for Software Engineering (?)
I like to say that Encora found me and arrived at an unexpected time—during the pandemic.
That year, my music projects were growing rapidly, and I was traveling and performing. I was concerned that if I wanted to work in engineering, no company would allow me to work both jobs.
When COVID-19 hit, I was studying online, and my university began to share my CV with various companies, one of which was Encora.
From the first call, I felt a vibe that made me feel that this was the place for me.
Encora offered me the ability to work from anywhere, and that meant I could continue traveling. I didn't have to throw away everything I had built-in music, and I could still begin a career as a professional Software Engineer. I could follow both paths!
I discovered that I could be motivated and focused on one task, and then change gears and focus on another.
How would you describe Encora's support for your music career?
I always tell this same story, and it's because I couldn't believe this could be possible:
Encora came into my life during the pandemic. It showed me that I have many options in terms of growing as an engineer. It also confirmed the things that I knew I did not want as a professional, such as being restricted to an office. Encora gave me all the benefits that I needed to be able to follow my passion while also being able to fulfill other financial obligations and responsibilities in a job that I am motivated to do. Encora has given me many incentives to continue growing as an engineer, for example, providing learning platforms where I can enrich my knowledge and improve my skills.
There are days when I am at Encora's offices and I can perfectly finish my work and then work on things related to music that needs to be done, such as sending emails, organizing things, and sending ideas for songs. These spaces are still available to me, and they have completely changed my perspective on a "professional life," showing me how I can work in a company where I can pursue both of my interests at the same time.
Does your music ever get in the way of your work at Encora or vice versa?
When you pursue both passions, you must find a balance. I may get a call saying there is a rehearsal or a concert, but I must be faithful to the work structure I have, and I must fulfill my responsibilities at the company. But I always manage to find balance in this and find the time to nurture my body, my mind, and my skills.
What is the thing that you like the most about Engineering at Encora and music in general?
Being able to have an approach to information and its management. Data is extremely important to me. Information or data can be related to banks, health, learning, and research; even in music, there is a lot of data and information.
I love to sit down, have a problem presented to me and be able to understand that problem. I like to analyze how it can be solved and what I have to do to improve it or have the information distributed in a certain way. I like to think about how my work can contribute to humanity, and that in some way, I can improve the future.
What are 3 words that come to your mind when I say, "Software Engineer"?
Future, creativity, satisfaction.
What if I say "music"?
Connection, spirituality, art.
I must add, it also brings to mind feeling the energy of 20,000 people, or how it feels to be in a studio with absolute silence capturing your sound, your art.
Can you share your #EncoraMoments with us?
There are several but one memory that comes to mind happened during my first few weeks of going to the office. I came back home with a gift from Encora. They left me little gifts or little notes with something nice written on them. People always asked me what Encora was and that it must be nice to be an engineer. I liked telling people that it is the company where I work.
Encora became part of me. It makes me feel valued. It represents me as an engineer. That feeling is stuck in my mind.
This year I got COVID and Encora unexpectedly sent me a present. Everyone was worried about me and making sure I was taken care of. It meant a lot to me to see they cared. I never imagined this would happen while working as an engineer for a company. It's been too cool.
Finish the sentence, "Encora, for me, is _____":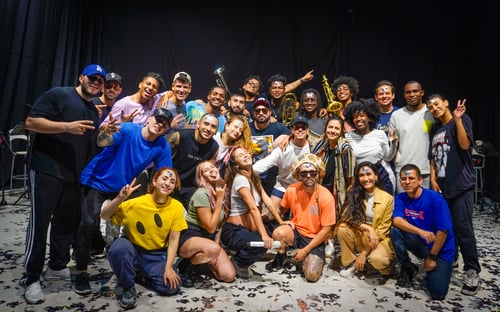 For me, Encora is a space where I can grow as an engineer, as an artist, and as a person.
In the same way that I accompany Mike Bahía in his concerts, Encora accompanies me.
And before ending this interview, I want to share how Encora supports me on a musical level. I'm grateful because they have even hired me for shows many times. Imagine how nice it is to be able to share my art with my co-workers.
There have been many opportunities in which Encora has supported my artistic career. They foster my growth in every way, and I get to build something beautiful with my team.
Rodolfo, is there anything you want to add to this interview for those who might be interested in working at Encora?
Sure, Encora is the place to "fuse" your worlds and follow your passion.
I have never heard of other companies supporting you like this, where you feel good, and where you can grow and even feel at peace because you feel comfortable.
I honestly don't have any friends who have a full-time job that supports them in these many ways and at this level.
And I'm not the only one. I have colleagues at Encora who athletes are, who have their own businesses, and who have families to take care of, and we all experience this same level of support and this freedom to follow our passions.
Those things make me happy and make me feel that this is the right place for me.
Rodolfo, thank you so much for sharing your story and inspiring us to pursue all of our passions.
We wish you the best and are happy to have you as an Encorian.
Thank you, and thanks to Encora for the opportunity to give my story a voice.
The best companies are built with the right people