As the largest business-oriented social media platform, LinkedIn allows users to create an online professional brand that helps broaden their network, leading to new opportunities. A LinkedIn profile is an excellent way to showcase your expertise and connections, demonstrating credibility in your field and highlighting your achievements.
This article will be looking at ten crucial tips that will help polish your LinkedIn profile.
1. Picture and Background
Be sure to smile and make sure your clothes are in tune with your specialty. For example, if you're a software developer, you can wear something more casual; on the other hand, formal clothing is recommended if you're a commercial executive.
Regarding your LinkedIn background, remember that your profile is like a web page and should visually transmit your personality and story. You can download the proper picture format from Google by searching "LinkedIn background" and clicking on the 'images' option. Or you can create a customized picture using Canva.
Check out the profile of LinkedIn's CEO, Jeff Weiner:
2. Header
This is the phrase that appears under your name. Including your job title and specialty is recommended — for example, Finance Specialist, Java Developer, SAP Consultant, or Commercial Manager. It's not advisable to add phrases such as "looking for new opportunities" or leaving your last job title and company when you no longer work there.
3. Contact Information
Usually, when recruiters are interested in your professional profile and expertise, they will look for a way to contact you. Therefore, it's essential to include your contact information, mainly your phone number and email. If you have other social media accounts, you can also include them.
4. Contacts
The more valuable contacts you have, the better. A recommended practice for anyone looking for a job is to list companies where you would like to work; this can also include recruitment agencies in your country.
To do this, you can go to LinkedIn's search bar and enter: "talent AND Company name." For example: "talent AND Amazon" or "talent AND Adidas." This search will automatically show you all the people who have both words in their LinkedIn profiles. You can then go to the filter section and select your country to see only those who work in the geographical area that interests you. Finally, you can choose those who are employed at the moment. The latter will then give you a list of people who work in Human Resources for the companies you are keen on. You can now add them to your contacts, and once they accept your request, you can send them a brief message introducing yourself.
5. Link
When you create your profile, LinkedIn will automatically give you an extensive link with numbers and symbols. Changing and shortening it is recommended. You can click on the option 'edit public profile' and customize your URL with your name and last name.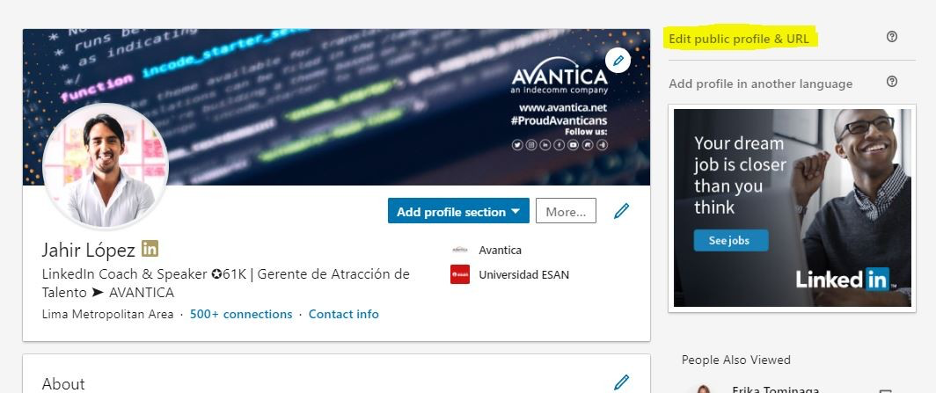 6. Summary | Extract
This includes attractive information for recruiters. In this section, you can add specific and objective details. It's not advisable to add descriptions that are too general, such as "professional in Systems Engineering, responsible, committed, great at teamwork and delivering results," etc.
It is best to include a concise yet objective summary, for example: "Senior Executive in Commercial Management specialized in mass consumption companies, advanced Spanish proficiency and eight years of proven experience managing customer portfolios, leading a work team, and establishing commercial strategies at all levels." See the difference?
7. Experience
It is preferable not to include job roles that are too general, just add the main ones. However, much more essential to your experience are your achievements. This is the first thing recruiters look for to determine if a profile meets their search criteria. For example, "during my term, I exceeded expected improvements in operational utility for 2018 and 2019". In addition, remember to add images of important events to highlight your achievements.
8. Education and Certifications
Remember to highlight those courses and certifications with higher relevance to the post you want to apply for. Do not add details regarding high school or general courses, seminars, webinars, or conventions.
9. Skills and Knowledge
Eliminate default skills such as Microsoft Word, Microsoft PowerPoint, or Microsoft Excel. Instead, include those that denote your specialty, such as commercial strategy, massive consumption, agile methodologies, digital marketing, corporate law, team leadership, etc.
The more you describe your specialty and the more endorsements you receive, the better. Remember that the moment recruiters perform an advanced search, the LinkedIn search engine will automatically analyze the keywords that appear on your profile.
10. Recommendations
It is vital to receive recommendations from your former direct supervisors, colleagues, staff, or higher management. This will add value to your profile and generate interest and trust (these are the equivalent of work references). To obtain recommendations on LinkedIn, a valid option is to write one for your contacts without them asking for it; when they accept your recommendation and add it to their profile, they will be given the option to write one for you.
Final Words
Without a doubt, there are many other options and functionalities you can use on LinkedIn. Although this article only covers the basic sections, if these are up to date and correctly presented, this will elevate your professional brand above the competition.
Are you interested in further exploring LinkedIn's advantages? Below you will find three additional tips.
Extra Tips
Social Selling Index: This LinkedIn tool is updated daily and measures your profile's effectiveness. To use it, you must open your LinkedIn profile and click

this link

.
Private browsing: do you want to visit other people's LinkedIn profiles privately? Click on your picture (in the upper part of the page, next to 'notifications') and look for the Settings & Privacy option. Next, select Visibility and choose Profile viewing options. By changing this, you will be able to browse other profiles privately.
Reference profiles: It's vital to look for other profiles you can use as references. This will give you a general idea of how to improve your own, and if you're browsing privately, other users will be unaware of your visit.
Like what you read?
Keep an eye out for more professional branding tips by following Encora on LinkedIn, Facebook, Twitter, and Instagram.