We Asked

Encora's

Tech Professionals Which Trends Are Driving the Market
The immersive experience of the Metaverse is not being developed by a decorated astrophysicist from NASA. Self-operated robots are not helping us treat serious diseases such as cancer. In reality, it is the Software Engineers, Developers and Systems Analysts that are creating innovative technological solutions, revolutionizing every industry in anonymity.
Software Development has become one of the most sought-after fields of expertise.
To dig deeper into what technology has to offer in the near future, we spoke with Alexandre Maldaner, Encora's Vice President of Operations. During our conversation we covered diverse tech trends and their impact, such as 5G, Internet of Things (IoT) and Artificial Intelligence (AI); and how Encora's Software Developers are preparing for the virtual demands of the Metaverse, HiTech, HealthTech, Telecom, and beyond.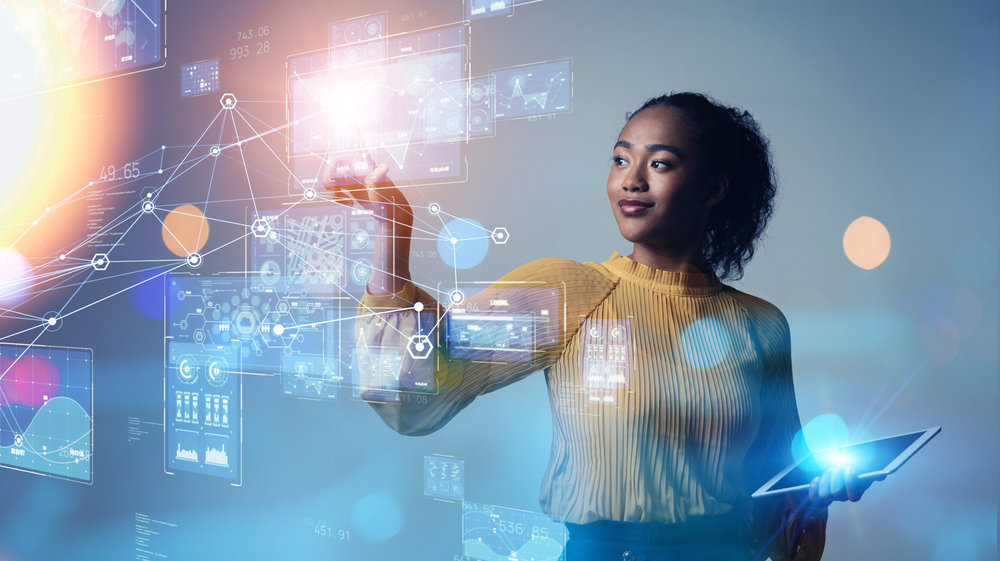 Metaverse: Building a Virtual Universe
According to Gartner's 2022 Consulting Report on technology, by 2026, 25% of people will spend at least an hour a day in the Metaverse working, walking, shopping or playing.
The Metaverse is a virtual, collective space created to converge physical and digital experiences. Companies are already buying and selling spaces there, while developers are paving the way with new technologies that can support the incredible volume of data it requires.
An Encora study group, with professionals from all over the world, is researching the topic, from design solutions to programming. The idea is to be innovative based on our customers' demands to revolutionize the way we digitally interact in the present day.
5G & IoT
In Brazil, 5G technology will soon arrive in major cities, dramatically increasing connection speeds. The domino effect will be the growth of other technologies such as IoT and AI.
5G is expected to generate US$2.7 billion in revenue by the end of 2022 according to a forecast by IDC, and increase the trend of smart devices (IoT) creating more connected homes. The estimated adoption of automation devices is almost 12% globally, as the pandemic has brought people indoors–and that's where they want to stay.
5G technology, in addition to allowing greater connection speeds, will reduce waiting time (delay) and will offer the possibility of standardizing points on a network so that it is possible to process data and use AI for new solutions.
At Encora, developers are already working with international customers who are preparing cloud infrastructures for 5G to work properly. It was also necessary to adapt solutions for clients who were not prepared to work with the 5G core. With this adaptation, Encora's clients are already selling their products to telephone operators that need to work in this area.
AI Against Unwanted Calls
"Hello, good afternoon! My name is so-and-so, and I'm calling today to make you an offer you can't refuse."
Who hasn't received a phone call similar to this one and, when answering, realized that it wasn't a person on the other end, but a recording, a robot programmed to call... infinitely?
In the United States, these calls are already a problem. Technology, however, through Artificial Intelligence can identify this call pattern. One of the exciting projects Encorian developers are working on is for a North American client to identify and classify calls made by robots. The telephone operator decides what action to take and will be able to block this type of call.
HealthTech: Technology Allied with Health 
The Covid-19 pandemic accelerated a movement that was already underway: startups that deliver solutions for different types of treatments and diseases online, making medicine more democratic.
Known as the HealthTech industry, these companies invest in technology and develop products such as applications, platforms, logistics for the delivery of medication.
One of our clients who works in this area is doing scientific research that correlates the benefits of food to cancer treatment. To fully understand the client's needs before starting to work on the solution itself, our developers worked on projects to improve the user experience directly with patients.
An Invitation for Technology Professionals
If you want to work with cutting-edge technology, challenging projects, or work with international clients in a collaborative environment, in a home office or in a hybrid model, find out about our job openings by clicking here.
Special thanks to our Innovation Leaders:
Fernando Moraes, Innovation Director

Mario Zimmer, Director, Sales & Canada Country Manager

Filipe de Castro, Director of Operations

Flávia Negrão, Experience Design Studio Manager